66/67 Fairlane Flowmaster Dual Exhaust System
Please tell them you saw this on my site.
For Immediate Release:
January 18, 2000
News From Flowmaster:
1966-1967 Ford Fairlane
(68/69 Coming Soon!)
V-8 Engines
American Thunder Dual Exhaust System
Part# 17289
----
Picture at bottom of page.
List Price is $468.10 if you can get jobber you should save another $100
Flowmaster Now Offers A 2.50" Dual Exhaust American Thunder Style System
For 1966 - 1967 Fairlanes. (Note: System Does Not Fit Convertible.)
Product Features: Dual 2.50" System With Tailpipes Featuring 3.00" Stainless Steel Tips
To Exit Straight Out The Back Of The Vehicle Between Fuel Tank And Leaf Spring
For A Factory Stock Dual Exhaust Appearance.
Dual System Designed To Begin At Transmission Mount And Follow Path Of Original Factory Dual Systems.
(Note: Front Pipe Section To Mate To Headers Or Manifolds Will Need To Be Fabricated.)
50 Series 5 x 10 Mufflers Featuring Reduced Interior Resonance And A Deep Muscle Car Type Exhaust Tone.
Computer Controlled Mandrel Bent Tubing For Maximum Exhaust Flow And Lower Restriction.
50 State Emissions Legal.
Includes All Necessary Clamps And Hardware, Along With OEM Style Hangers
That Mount In Original Locations. (Note: Original Single Exhaust Vehicles Require
That Holes Be Drilled For The Additional Hangers.)
Product Benefits:
Fully Aluminized Steel Construction For Extended Product Life. Dual Exhaust System
Featuring Mandrel Bent Tailpipes And A Fully Welded H-Pipe For Ease Of Fitment.
Stainless Tailpipe Tips With Rear Exit Design For A Factory Appearance.
For More Information Please Contact:
Flowmaster, Inc.
2975 Dutton Avenue
Santa Rosa, CA 95407
Tech Line: (800)544-4761
www.flowmastermufflers.com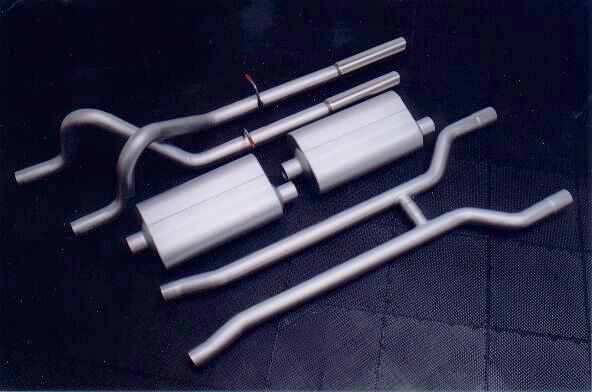 This Page is Part of Fast Fairlane Site